Back
There's perhaps no better origin story for a wedding venue than one that begins with its own proposal and labor of love.
Jim and Debra Scano were strolling the land they had owned since 2015. Jim knew he wanted to build something near the pond, and Debra suggested he design them a place to get married. And thus Bella Terra was born.
The stunning venue, located in Gunter, Texas, near Dallas, blends the aesthetics and amenities of a barn setting with an elegant flair and modern sensibilities. Along with the interior volumes one would expect, catering to more intimate gatherings of 150-200 people, the barn offers about 2,000 square feet of porches, providing ample space to move around, find respite, and take in the serene surroundings.
The nearby pond is nestled among gentle rolling hills, a rarity in this typically flat region. They designed the venue to be more wide than tall so as not to disrupt the landscape that inspired its creation. 
Bella Terra stands out from other venues in its appearance, as well. The building eschews the typical red or white color tones for a subtle gray replicated from a barn the Scanos had seen in Vermont that was clad in rough-sawn pine and stained.
The path to achieving the look wasn't initially easy: They originally used wood siding with stain, but after a year the boards began cupping, warping, and coming off the building. The Scanos searched for a better solution, then set aside two months in early 2021 to re-side the entire exterior.
Jim knew they needed a more robust option, but was grappling with how to achieve the same look as the failing wood—after all, couples had booked the venue based on images and site visits, so a drastic change in appearance could be disastrous. After some research, he found TruExterior Siding from Boral Building Products, a Westlake company, and requested samples from their local rep. Jim tried some techniques and was able to match the look of the wood by spraying on medium brown paint, which mimicked the look of a stain, and then dry-brushing on gray paint.
"Because TruExterior has texture, it took to that really well," Jim says. "You have to have the highs and lows, so it takes paint a certain way to leave some of the brown behind."
And while the painted 10-inch Nickel Gap replicated the authentic original look, TruExterior Siding helped ensure the performance issues wouldn't be repeated. Made with proprietary poly-ash technology, the siding resists rot, decay, and insects while ensuring long-term performance with low maintenance.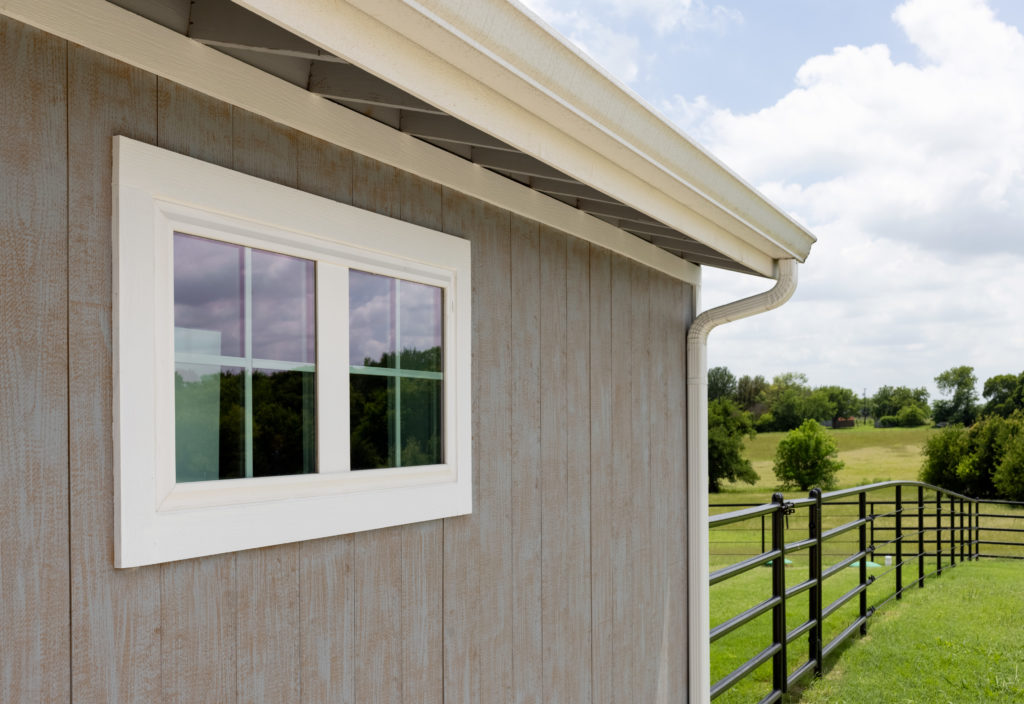 "Changing the siding and finding a new solution was such a huge stress," Jim says. "So far, I couldn't be more satisfied with the results."   
Jim's attention to detail carries throughout the venue. He built the wood bar himself, as well as the chandeliers, helping to save on budget while achieving the form and function required of the vast space. Elegant, contemporary fixtures in the bathrooms, clean lines throughout, and black-framed windows balance the more traditional wood beams and knotty pine walls to achieve the ideal blend of rustic and modern sought after by Dallas brides.
The result is a true labor of love—and, as envisioned, Jim and Debra were the first to be married at Bella Terra when it opened in February 2019.
Explore TruExterior Siding & Trim at truexterior.com. Learn more about Bella Terra at bellaterravenue.com.

The post Outside and In, Dallas-Area Wedding Venue Balances Rustic and Modern appeared first on Boral Master Blog.